On the basis of trampoline type, we categorize trampolines into: large trampolines, medium trampolines, and small trampolines. According to the Global Trampoline Market Attractiveness Analysis Report 2012-2018, it can be concluded that small trampolines are loved by most of the consumers.
And of the small trampolines, the 7ft trampoline has to be discussed. In the past five years, 7ft trampolines have become the first trampoline for most families with children. But why 7ft trampoline is so popular, Aotob has analyzed the following aspects, hopefully it can be some reference for you who are worrying about choosing the size of trampoline.
1. Load Bearing
Generally, the larger the size of the trampoline, the better the weight capacity of the same brand. This is because bigger trampolines use more springs, and the more springs they have can spread the force that more jumping mat endure, and have a greater weight-bearing capacity. Therefore it adapts well to the weight of different children in multiple families.
2. Using Area
When it comes to using the 7ft trampoline, it's important to consider both indoor and outdoor options. While it's small enough to use indoors if you have enough space, it's also suitable for outdoor use if you're limited to indoor space. However, it's important to note that outdoor trampolines must be UV and waterproof to prevent wear and tear. Luckily, the Aotob 7ft trampoline is also an excellent option for outdoor use, as we've improved the materials to make it waterproof and UV-protected. By choosing this trampoline, you can effectively extend its life for outdoor use.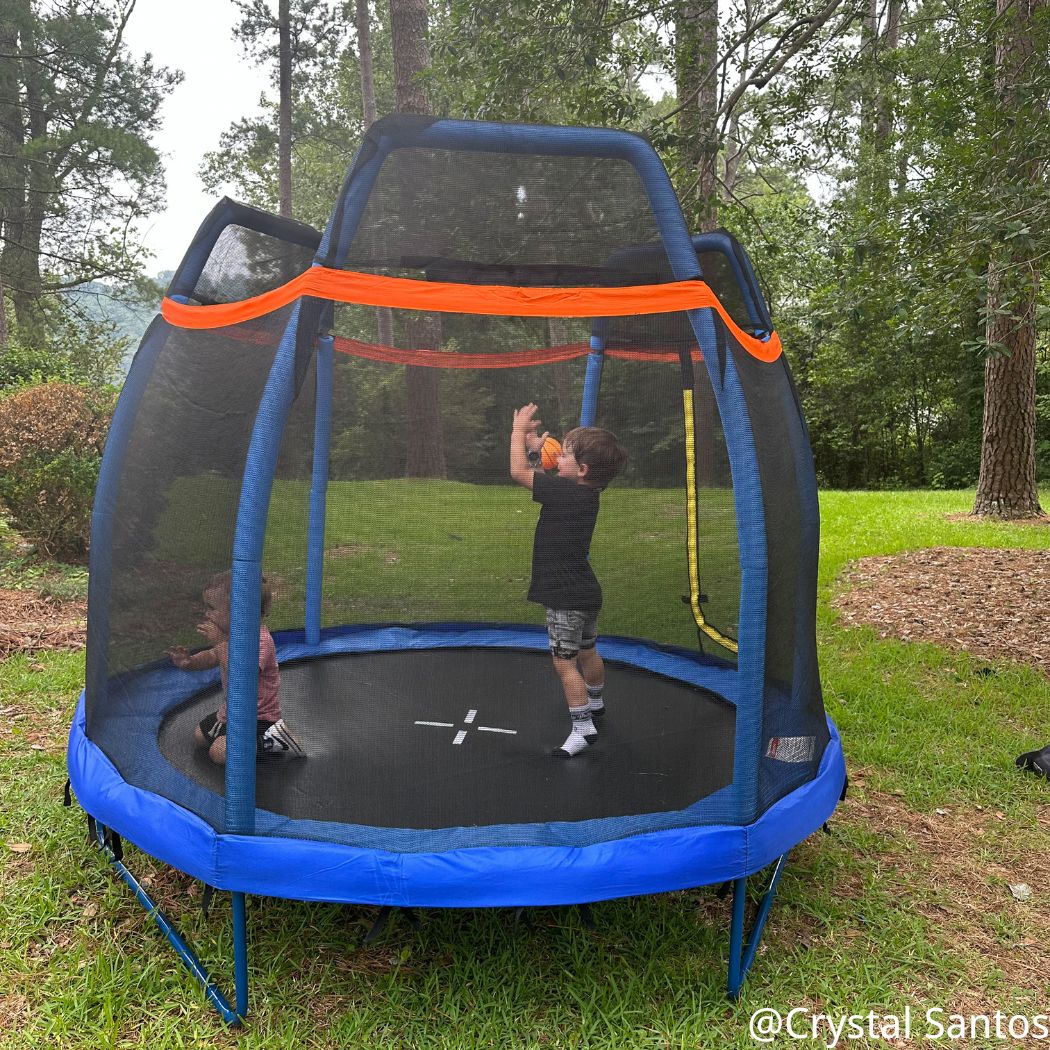 3. Space
There is no doubt that 7-foot trampolines have a larger area to use, providing a wider space for your child to play, rather than just jumping in a confined space.
4. Age of User
The age of the user is an important consideration when choosing the appropriate trampoline size. The 7ft trampoline is ideal for children between the ages of 36 months and 10 years due to its larger jumping area and higher weight capacity. This makes it an excellent gift to support your child's development and growth, which is why it's a popular choice.
5. Price
Just comparing the price, 7ft trampoline with net is more expensive than other small trampolines. However, taking into consideration the points mentioned above, the 7ft trampoline for both indoor and outdoor use can be utilized in a wider range of situations and for more children. As a result, the 7ft no-gap trampoline is a better value for the money.
| | | | |
| --- | --- | --- | --- |
| | 45" | 55" | 7' |
| IMG |   | | |
| Price |  $89.99 |  $89.99 | $149.99 |
Here are a few key elements to consider when selecting a 7ft trampoline from the market.
1. Safety Design
The first thing to consider is safety! First of all, you need to compare the safety designs of kids' trampolines. One of the most important things to determine is whether it is a no-gap design. This is very important.

2. Netting

Next is the safety net, some indoor nets have large holes that can be dangerous for children as their fingers can get stuck while jumping.
3. Legs

Nowadays, small trampoline legs are mainly divided into two categories, one is plastic and the other is metal. The advantage of plastic legs is that they have a larger contact area with the ground and are friendlier to indoor floors. Metal legs are characterized by corrosion resistance, are not easy to be damaged or destroyed by pets, and last longer.
4. Durability

If you have put it for outdoor use. Then you also need to consider whether it can withstand UV rays and rain. According to Aotob statistics of 7ft trampoline common problems, fading and corrosion are 2 main problems. Therefore you need to pay attention to whether the material of this trampoline is UV and rain-resistant.

5. Price

The last point is the price! The most expensive is not always the best. You can decide on your favorite trampoline by comparing the above elements, but if they have similar features and functionality, then price will be your deciding factor. Remember! The most expensive is not necessarily the best, the best for you is the best.
All in all, Aotob hopes that all children will get their favorite outdoor toys and experience the joy of jumping!